Online Student Orientation
Please take a moment to review the information provided below.
OPTION: Closed Captions

DISABLED
Closed Captions are disabled by default on all videos in this online orientation system.

ENABLED
To enable Closed Captions, after clicking to start playing a video, click the CC button.
OPTION: Save & Resume Later

NEED MORE TIME TO COMPLETE THE ORIENTATION?
The new 'Save and Resume Later' link is available at the bottom of the orientation.

CONFIRMATION
When you choose to Save and Resume, click Save and get link in the pop-up.
GIVES YOU 30 DAYS TO RETURN AND FINISH ORIENTATION
You will have the option to have the link emailed to you.
NOTE: When you return to the orientation, you will start at the beginning, but your previous answers are recorded, so just click the Next button until you get to a question you have not yet answered, and continue.
OPTION: Video Quality Selector (Three Visual Options)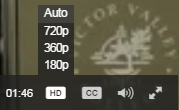 NOTE: Videos will start at a lower quality by default (to improve load times), but will automatically improve based upon available bandwidth.
To increase video quality manually, select 360p or 720p.
New Student Online Orientation
Access Now (Login Required to Complete)
Last Updated 3/16/18